All Invited to First Presbyterian Church's

190th Anniversary Celebration on 

Sunday, September 10!
10:00 am
 – Worship / 190
th
 Anniversary Celebration, 870 W. College Ave. Jacksonville, IL
~ Special Music, puppet skit & symbolic butterfly release ~
     ·       All are invited to join us in a Group Photo in the front of the Sanctuary after Worship
     ·       Pick up a Free Special Church Music CD as you leave church. Thank you Dan Thompson!
     ·       We encourage families to join us in a special Butterfly Release in the Courtyard.
              Instructions will be provided by Chris Sheehan.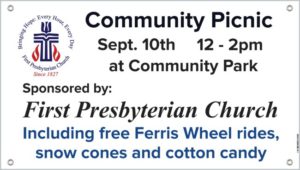 12:00 pm
 – Picnic at Community Park
Join us for Food – Fun – Fellowship at a picnic at the Jacksonville Community Park
~ Ferris Wheel rides, car show, music, hay rides, petting zoo, cotton candy, snow cones!
     ·       Please bring a lawn chair!
     ·       Don't forget to sign up to bring a dish to share! We have split up the alphabet to help make things easier! If your last name begins with A-G = Bring a Side Dish; H-P = Bring a Dessert; and Q-Z = Bring a Salad. The Deacons will provide hamburgers, hot dogs, and the beverage!