As God's people, we have been sent to do ministry –
TOGETHER, let us

LIVE MORE GENEROUSLY!



To meet this challenge, it will take the participation of all our members: our prayers, our time and abilities, and our financial participation.
Ways to Give
Whether part of our Sunday service or at some other time in your week, contributing your tithes and offerings is an act of worship so that we may be a blessing in this world. Here are various ways you can give. Thank you so much for supporting the ministries of First Presbyterian Church!
Online – Make one-time or recurring contributions on the web. 
Worship – Place cash or checks in the weekly Sunday offering plate using the provided envelopes.
Mail – Gifts can be mailed to: First Presbyterian Church, Attn: Finance Secretary, 870 W. College Ave., Jacksonville, IL 62650.
In Person – You can also drop off a donation at the church between 8:30 a.m. and 4:00 p.m. Monday-Friday.
Automatic Contributions – The easiest way for most people to set up automatic contributions will be to sign into your bank's bill pay website, set up a new payee: First Presbyterian Church, 870 W. College Ave., Jacksonville, IL 62650 (if an account is needed use 870-870-870). Most banks allow you to set up recurring payment frequencies. You may also call your local branch to make the arrangements.
---
Take the next step!
We ask you to pray regularly and frequently for the ministries of First Presbyterian Church.
We ask all of you to take advantage of the ministry opportunities that are offered.  Think what we could do if all of us gave just one more hour a month to our church's ministries!
We ask all of you prayerfully consider increasing your estimate of giving. If all of us were to increase our giving by just one percent of our income, that would mean we could accomplish all of this vision for ministry … and MORE!
Print and mail it to the church office 870 W. College Ave. Jacksonville, IL 62650
Save it filled in to your computer and email it to our Finance Secretary at finance@firstpresjax.org. 
---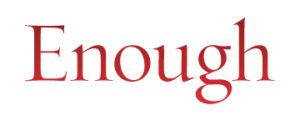 2020 Stewardship Resources
Week 1: When Dreams Become Nightmares – October 25, 2020
     On Sunday, October 25, we will begin a churchwide study and worship emphasis called Enough: Discovering Joy Through Simplicity and Generosity. Over a period of four weeks, we will look at some of the financial challenges facing us as a nation and examine our own spending, saving, and giving habits. In addition to exploring biblical principles of financial management, we will learn ways to assess our financial situation and develop a financial plan that will allow us to experience the true joy that comes through simplicity and generosity. At the end of the emphasis, we will have the opportunity to make personal commitments of giving for the coming year. We will consecrate these commitments on Thanksgiving Sunday, November 22, 2020.
Week 2: Wisdom and Finance – November 1, 2020
     Today in worship we will look closely at biblical principles of money management and learn how they apply to our daily lives. We will review some common pitfalls and cultural traps and discover how to avoid them. We also will learn about the Six Key Financial Principles, which are summarized below.
We hope you will take time this week to read these principles and Scriptures. They will make a great table devotional for you and your family. By practicing these biblical principles, all of us can find greater simplicity, contentment, generosity, and joy for our lives.
Put God first in your living and giving. (2 Corinthians 9:6-7)


Put God first in your living and your giving. Give your tithe and offering from the "top" of your paycheck, and then live on whatever remains.

Prepare a spending plan and track all expenses monthly. (Proverbs 27:23-24)


Creating a budget means developing a plan in which you tell your money what you want it to do. Tracking your expenses is like getting on the scales to see how you are doing.

Simplify your lifestyle; live below your means. (Matthew 6:19-33)


Because this discipline is critical to the success of any financial plan, next Sunday's sermon will be devoted to this topic.

Provide immediately for an emergency fund. (1 Timothy 6:9-12)


An emergency fund is an account separate from checking or long-term savings that is set aside specifically for emergencies.

Pay off all credit card debt; use cash or debit cards, not credit cards. (Proverbs 22:7)


As you are building your emergency fund, begin to pay off your credit card debt and start using cash or debit cards for purchases. If you must use a credit card, be sure to pay off the debt monthly.

Practice long-range saving and investing habits. (Luke 14:28)


Saving money is the Number 1 wise money management principle everyone should practice. There are three types of savings we should have: emergency savings, savings for wants and goals, and retirement savings.
Bulletin Insert #1: Financial Goals (click here to download)
Bulletin Insert #2: Basic Budget Worksheet (click here to download)
Week 3: Cultivating Contentment – November 8, 2020
     Contentment Is Key – Do you have a tough time separating "wants" from "needs"? Do you sometimes feel consumed by the desire to have more? Do you ever look at your surroundings and feel overwhelmed by the sheer volume of things? When is enough, enough?
Today in worship, we will release these burdens, address our human tendencies head-on, and learn how to change our ways.
Week 4: Defined by Generosity – November 15, 2020
     Personal Goals and Commitment – What defines your life? Is it wealth? belongings? faith? Many of us live with a scarcity mentality, worried that we must gather and hoard as much as possible, saving for some imagined "rainy day." Others go to the opposite extreme, focusing on self-gratification. But the Bible promises both God's blessings and joy for those who choose to live another way.
During today's service, we will take action to change our lives by setting five specific personal goals to work toward over the next year. You'll find in this bulletin a Personal Goals and Commitment Card. Take it home and place it in your Bible for your personal reference in the coming year.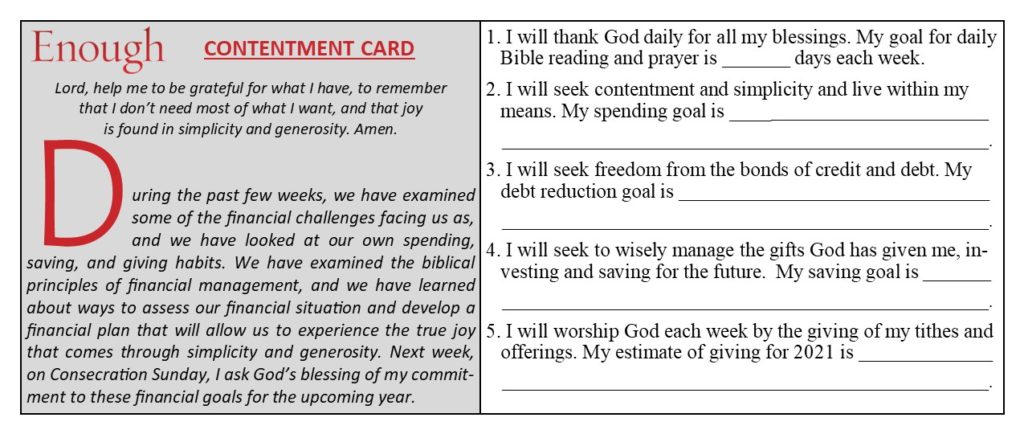 Note that one of these five commitments is your estimate of giving for the coming year. This week, you will be receiving an Estimate of Giving Commitment Card in the mail. On a practical level, we ask our members to turn in estimate of giving commitment cards each year so that our Finance Committee is able to set an accurate ministry budget for the coming year. This allows us to make the most of every dollar given to the church. On a personal level, the commitment card is an opportunity for you to spend time in prayer and reflection, considering what offering you will make to God through our church in the coming year. Please be watching for the mailing; then fill out the card and bring it with you to worship next Sunday.
Consecration Sunday – November 22, 2020
     Today is Consecration Sunday. In our worship service, we will have the opportunity to consecrate our personal commitments for the coming year. You should have received an Estimate of Giving Commitment Card in the mail. If you did not receive one, or if you forgot to bring it with you today, additional cards are available in Goltra Hall, or please email the church office@firstpresjax.org  We invite you to prayerfully consider what your offering to God through our church will be in the coming year. Then fill out a card and bring it forward at the conclusion of the worship service or if you are worshiping online, mail it to church 870 W. College Ave, Jacksonville, IL 62650.
*The 2020 Stewardship campaign and sermon series at First Presbyterian Church, Jacksonville, IL, is based on Adam Hamilton's book and program guide, Enough: Discovering Joy Through Simplicity and Generosity.